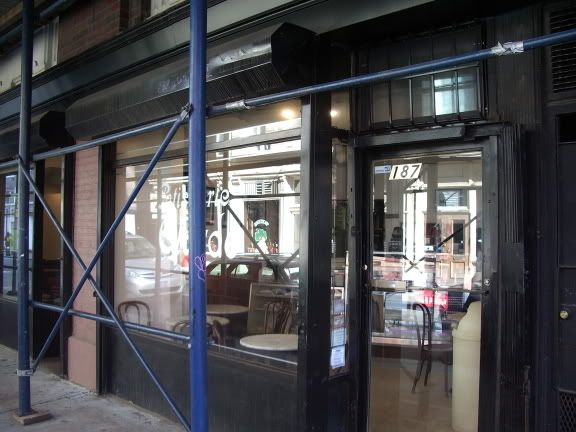 I am in love with a man. His name is Claude. Claude of Patisserie Claude. But he's married. That's okay. I don't love him THAT way. I love him because he is just about the kindest French baker I've encountered in my life. It doesn't hurt that his croissants leave me in a blissful state where my eyes go all cloudy staring off into space, attempting to comprehend how, HOW anything could taste that incredible.
It all started Thursday morning. It seemed as if everyone in the city but me had experienced one of Claude's emphermal croissants. That would need to be fixed. As a lover of buttery baked goods (aka croissant and brioches) it would be a sin to neglect visiting the patisserie.
It's a modest tiny place along West 4th street, very humble looking with three small tables in front of the bakery counter. Claude and a single assistant (he has one during day and another at night) work in the open kitchen while another lady handles the register. I arrived at 8:30am and ordered a croissant($1.40), and then, remembering the $2 minimum to sit in the patisserie, added on a cup of coffee. The coffee was fine, but the croissant.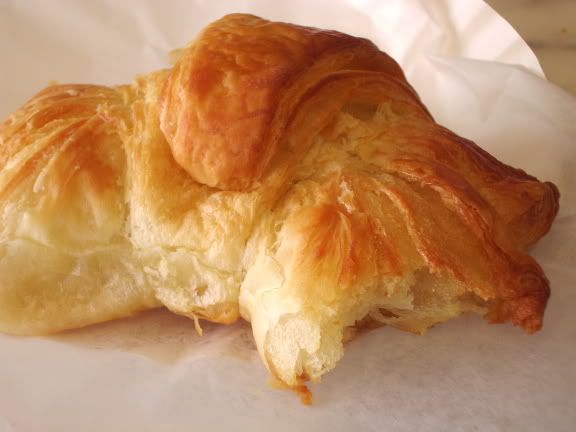 Oh god, I think that croissant alone made the price of my plane ticket worthwhile. Warm, flaky and perfectly browned on the outside, bits of croissant shards fell onto my lap with the first bite (see how I was too weak to resist biting before the picture?). I've never had such a crisp or finely shaped croissant in my life. You'd then be led to think that it would be impossible for this pastry to have a layered soft and dough inside. BUT IT DID! Oh my god. I don't know how it happened. But look! Layers upon layers of soft buttered dough! You could pick out every one of the folds Claude made in the process of layering thin slices of butter over and over again until THIS.
I finished the croissant and I was full. But my eyes were not. A batch of brioche was just taken from the oven. Warm, no, HOT brioche. I cannot stop myself. There was still a half cup of coffee left. Coffee needs a companion. Brioche. Brioche. And somehow, by magic I suppose, I found the toasty hot creature ($1.4o) sitting in front of me.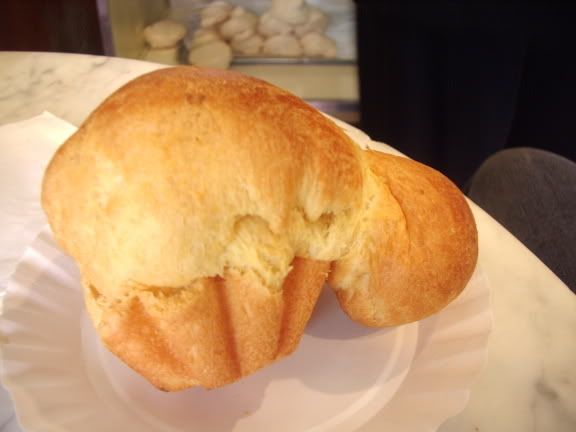 That was when Claude started to notice. You see, most people have one pastry for breakfast, not two. Especially not small sized people. I'm okay sized I guess, but I don't think he expected me two have two buttery pastries at 8 am, one after another. I love brioches. They're my favorite kind bread/pastry. And Claude's did not disapoint. Look, see how this magnificent butter based yeast pastry just plumpooded over while baking!
As I left the Patisserie, Claude stepped out of the kitchen and said, "merci" in a decisively French manner. Something inside me clicked and I asked:
"When do you close?"
"8pm"
"I will be back tonight"
"I shall see you then"
My afternoon adventure included a visit to Mama's in Queens (to be posted next) eating incredible roast pork subs and picking up desserts for friends when something in me said, hey, I should buy a box of Italian pastries for Claude. Never mind the fact that he really had no idea who the hell I was, much less know my name. Either way, buying sweets for a "stranger" never backfired on me yet.
Come 7:55pm, I stood in the entrance of this beloved patisserie. There was no one but Claude in the kitchen and he gave a knowing smile as I walked in,
"You are back"
"Like I promised"
"What is in that box?" he demanded. I obligingly handed it forward and Claude opened it with the precision of a man who has open many bakery boxes in his life. He examined the contents, "very good" and handed it right back to me.
"Oh nonono. These are for you!"
"Me?"
"Yes, for you"
"Ahh" he pondered for a moment, "why you give me?" I was stuck. What was I supposed to say, er, I loved your brioche and croissant so much that I'm attempting to show my appreciation for your exquisite baking through a box of Italian sweets?
"Er…"
"No. I know why."
"Okay!"
"But I cannot."
"How come?"
"Diabetes"
"Ahh…" awkward silence.
"You like my pastries?"
"Could you not tell?"
"Sit, what do you like to eat?"
"Everything. What should I eat?" Claude slides open his pastry case and gives everything a once over. He pulls out a gorgeous shiny pear tart slice, places it on a paper plate and hand it to me. I instinctively take out my wallet to pay for the tart but Claude frowns, "Stop it."
"What?"
"You thoughtful enough to give me sweets. These are for you."
"But you didn't even accept them!"
"Eat," he says sternly, "tell me what you think." In no position to argue I take the same seat I occupied this morning, the one nearest the heater. I get cold easily and the warmth makes me happy.


The tart is light and refreshing. The crust, more nutty than buttery, is tender to the touch. Slices of sweet cool pears are beautifully layer on top in a basic pattern, finished off with a thin caramel glaze. It is perfect. It isn't overwhelmingly sweet like too many tarts I've had. It is simple, just the basics – crust, fruit, caramel and nothing more. And like this. This is all you want. I finish it in silence. There is no one in the bakery but Claude and I. He occasionally wanders out from the kitchen to judge my expression and I think he is satisfied. As the last bite slides off the spoon and into my mouth Claude opens up the pastry case again. "You like espresso?"
"There's nothing I don't like."
"Okay. Good. You eat this." And like magic, a modest brown rectangle with a reflective golden top is set in front of me.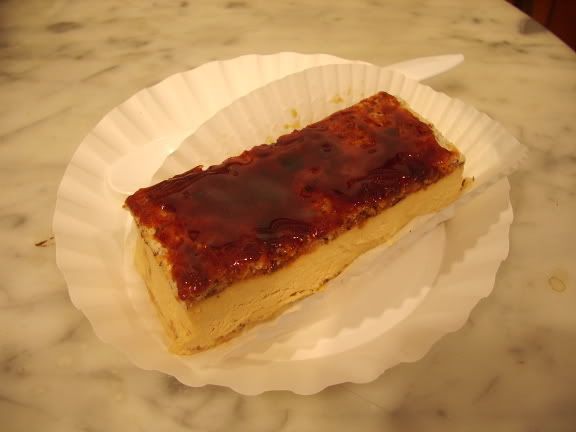 This is Claude's espresso mousse napoleon. I never had anything quite like this. Aside from the crispy layer of caramel topping the napoleon it is not sweet at all. Is this dessert made for me? I wonder. I love sweets, but they are often cloyingly sugary and leave me with a toothache. I taste a cold mousse wavering on the light gelatin-like side of pure espresso. It is as if I'm having soft espresso gelee.
"It is so good Claude!" I feel like an idiot. This amazing pastry chef practically feeds me the most wonderful treats and the best I can do is say that it's 'good'? God, I'm a moron. I don't deserve this. But I love it at the same time. I try explaining to him why, "It's everything I want in a pastry. I want the flavor, not the sugar. It is so clean, so pure!" And I hope he understands. Maybe he does, maybe he doesn't.
"You still here tomorrow?"
"Yes."
"I see you at 8am then."
"What will I eat?"
"You will start with the pain au chocolat," he states as a matter of fact. 'To start', that means it will not end there. I leave the patisserie very full and in a strange state between bliss and wonder. 8am cannot come soon enough.
I am disapointed to discover I am the second customer of the morning. A young man is already sitting at my table, croissant in hand, NY Metro in the other. That's okay. Claude sees me enter and takes a pain au chocolat from the kitchen, not the bakery counter, places it on the now familiar white paper plate and hands it to the same Spanish girl who served me yesterday.
"Coffee?" she asks.
"Yes please"
"$2.75" I hand over the money and this time it is accepted. I sit at the seat that is not my seat and begin. It is the same dough as his traditional croissant, yet I still marvel over the miracle of this creation.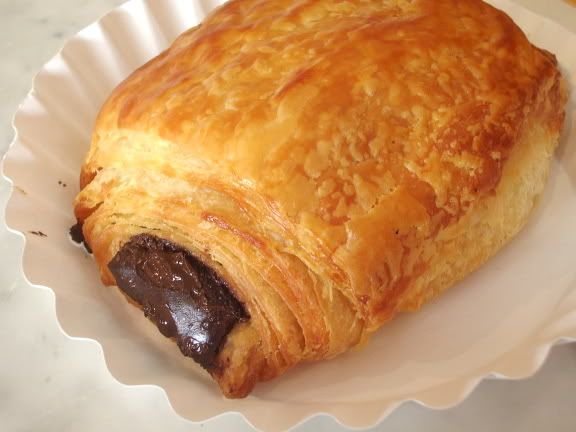 How can something bear a beautifully browned and crisp exterior but have an interior boasting dozens of folds, each one evenly buttered and puffed up but still doughy all at once? In the chocolate version, a precise rope of melted dark chocolate is evenly distributed throughout the croissant. Every bite yields a taste of the warm chocolate mingled with the crunch of the croissant and the buttery soft layers of dough.
I am not finished. There is more to come.
"Croissant?" Clade inquires.
"Ay, I would love to but there is not room in my stomach and not enough time to have the same thing twice," I respond remorsefully. I've have too many sweets in the last few days, something savory would be nice, "quiche?"
"Yes, the quiche today is very good. I will warm it back up for you." I move back to my seat as that NY Metro reading male has left, probably back home to his lovely loft in Soho. It takes about five minutes for my quiche to be ready.
"All finished. Here, for you."
"Thank you," I say, handing over three one dollar bills.
"Merci."
It's funny. After trying so many pastries and sweets here I am scared of being disapointed and encountering something that is not spectacular. I hesitate before starting the quiche. And I was proved wrong. I've never been so happy to be wrong.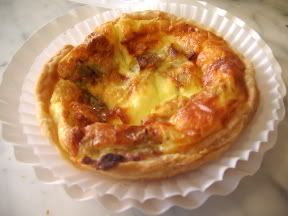 The quiche, even after the pastries I would have tonight, was the best item at Claude's. Even better than the croissant people rave over. If I had it my way, I would be still eating it now, spooning each light eggy bite touched with silvers of endive, and just the right amount of guyere cheese. It is just like that. I want to cry, it's so good, unlike any quiche I've ever had. The egg is wobbly, barely cooked, depending on the warm flaky shell to hold it together. The crust has a just a memory of salt between the numerous layers of savory buttery crunch. It is spectacular. I want to jump up and do something, anything, but I just sit there basking in my own self-found happiness.
I come back around 5pm the same day. This will be my last visit to the patisserie. Not because I am leaving but because I cannot help myself. Everytime I enter though the doors, I inevitably leave two pastries heavier. It all feels delightful as I consume the pastries but I've never been so full in my life. My daily visits to Claude's are combined with dinners at Balthazar and Italian roast pork subs from Mamas. I cannot continue to do this, I feel as if my heart will fail if I continue to average four pastries a day. (I told a friend, "I feel like there's three 1-pound blocks of cold butter sitting atop my heart, pushing it down.") So I will stop. After this visit.
"What are you feeling like?"
"What do you have?"
"You will eat a lemon meringue tart. You will like it. It is not sweet at all." I had over $3.25 and he accepts it, "merci."
There's no need for further description. I loved it as much as I loved everything else he made. True to his word, the lemon curd was soft and sublime with the flavors of lemon, barely sweet.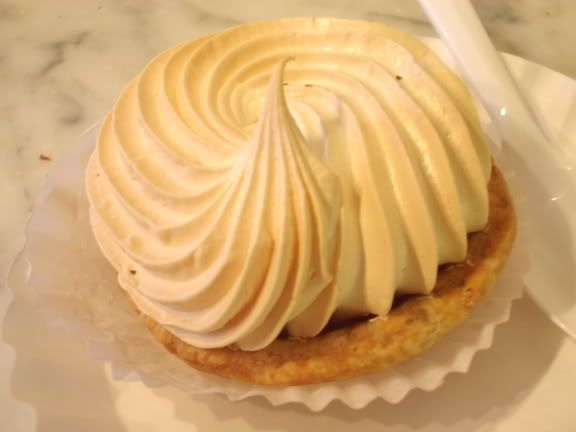 "I am not coming back. But I must have one more."
"Anything you want." I move my eyes away from the cake side of the case and towards the cookies. I've been eyeing this massive, dollar bill sized meringue since yesterday. I know it is only a meringue, any one could whip one up with a few egg white and sugar at home, but this is what I want.
"The meringue looks good."
"The meringue it is," Claude removed the delicate mass but before placing it on the plate he whispers, "chestnut puree and whipped cream on top?" as if this was an illicit secret we must share with no one.
"Oooh, yes. please do." He goes into the kitchen and does not come out for a very long time. I wonder what is wrong. I step a bit behind the counter and try to see what is happening. I spy his back, leaning over the metal counter. His right elbow moves back and forth. Everything is alright. I just need to be patient. Claude comes out of the kitchen, a modestly proud expression on his face. He know he has created something spectacular.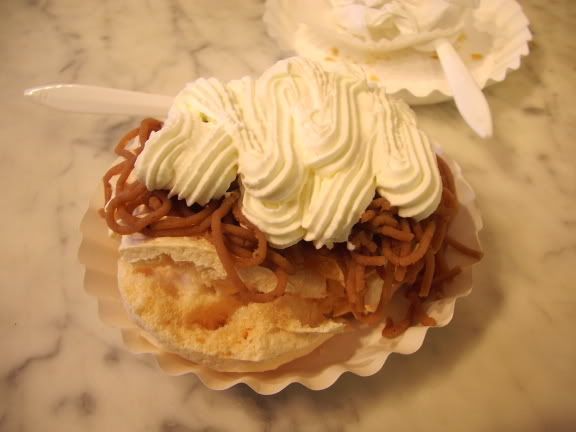 The meringue is slightly crushed beneath the threads of pure chestnut puree which borderline savory with a slight tang. The cream is thick and billowly all at once. And I eat it spoonful after spoonful. It feels clean and refreshing despite the components. It is magic! (again)
I pack my bag, getting ready to leave. I've had eight pastries in two days (not including a Italian dessert venture in Queens and cakes from Blackhound). It's all wonderful, but I my stomach can't hold any more. Before leaving, Claude hands over two delicate macarons.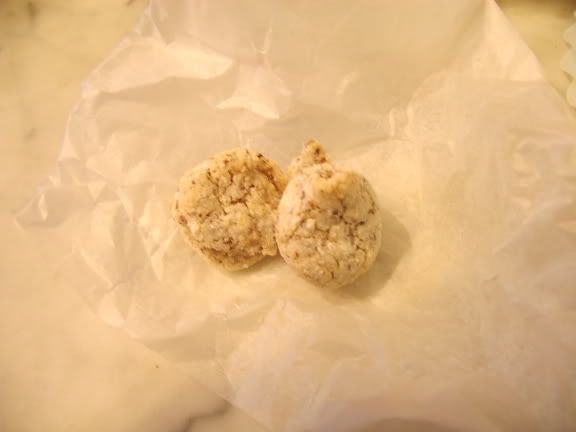 Tiny precious creatures. I hold them like pieces of gold.
We shake hands like…I don't know…like two people who love to bake and eat, or maybe two people who love meeting strangers and building relationships on a whim.
"Enjoy them. I see you next year."
I walk out the door, pop a macaron in my mouth, perfectly content with how the nutty bit dissolves in seconds, leaving behind nothing but traces of wonderful memories.
I will see you next year, Claude.
Patisserie Claude
187 W 4th St.
NY, NY 10012
(212) 255-5911