Oh man you guys. This has got to end. I'm on a dandan mein overload – I cannot stop eating it! But here's the thing. While I seriously can't stop myself from eating it, what I'm actually craving is Vietnamese food. More specifically, com tam. With cha. It all started with Elmo's post, and then Chubbypanda's! And now all I can do is dream night and day about my plate of com tam that will seemingly never be. I'm honestly thinking about taking the bus (in LA of all places) to Thuan Kieu in San Gabriel. I need a caaaaar! I'm swear, I'm going to die or pass out if I don't get com tam sometime soon. I cannot think straight (which I really need to do if I plan on doing well in school) Ridiculous. Everyone's willing to drive out to Rowland Heights for dinner, but not a single person will take the extra 10 minutes to get to San Gabriel. Sob. Okay, I'll stop with the pity fest and move onto dinner. But still, so sad so sad. All I want is com tam (with cha). I'll pay anyone to drive over a plate for me! Heck, I'll pay for your meal too! Sob sob.


Tonight, Fan and I took out some friends from Seattle to "experience" Chinese food, or more specifically, Sichuan food at Manie's Restaurant in Rowland Heights (so many good Chinese places, not a single decent Vietnamese spot). I just had dandan mein here last week, and at Q Noodles yesterday but I wanted it again! Sheesh, what's wrong with me. Anyways, I think I reached the point where I've had enough heavy spicy peanut buttery goodness cause each new dish of dandan mein is starting to bring diminishing returns. We finished of course (all 3 orders as there were 9 of us), but it just wasn't as good as the first time. Maybe it's because all I want is com tam and not dandan…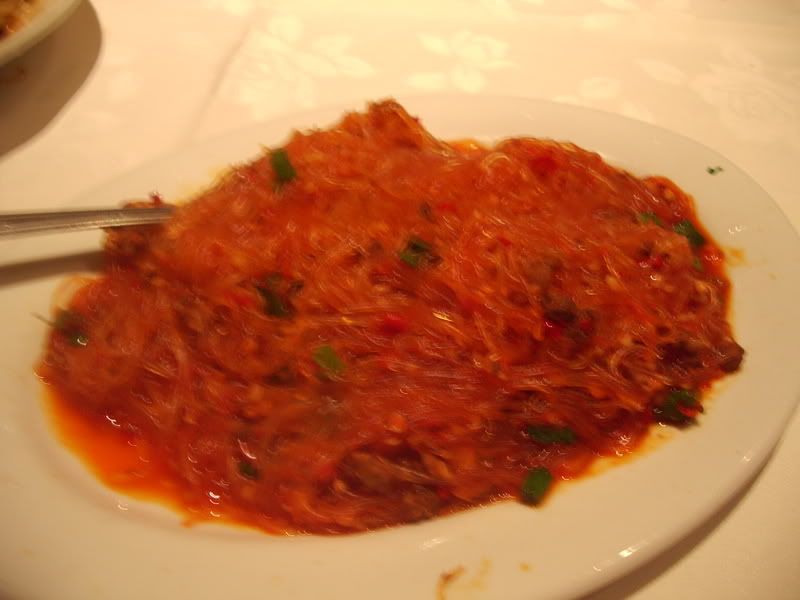 This was followed by the spicy glass noodles, which, my gosh, were very spicy, even for my standards. But it was sooo good. The noodles were soft and slippery in me mouth each strand with a thin coat of spice. Perhaps my favorite dish of the evening. The noodles were simply fried with entire chili peppers and onions.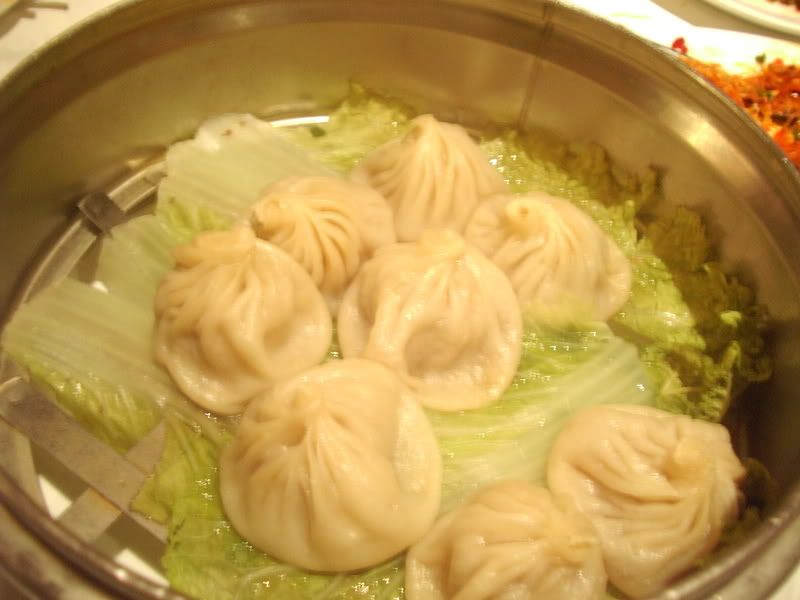 We had three orders of the xiao long bao. The skin was on the thick side, a little too chewy but at least we weren't cheated out of any juice that could have possibly squirted out. The broth with sweet and rich, just the way I like it. No complaints aside from the thickness of the skin, but my all time favorite is at New Green Bo in NYC.


One guy was intent on getting his fill of kungpao chicken and fried rice (he literally said, "I want to see how it compares to Panda Express"). Hehe, he was quite taken aback by all the peppers in the dish!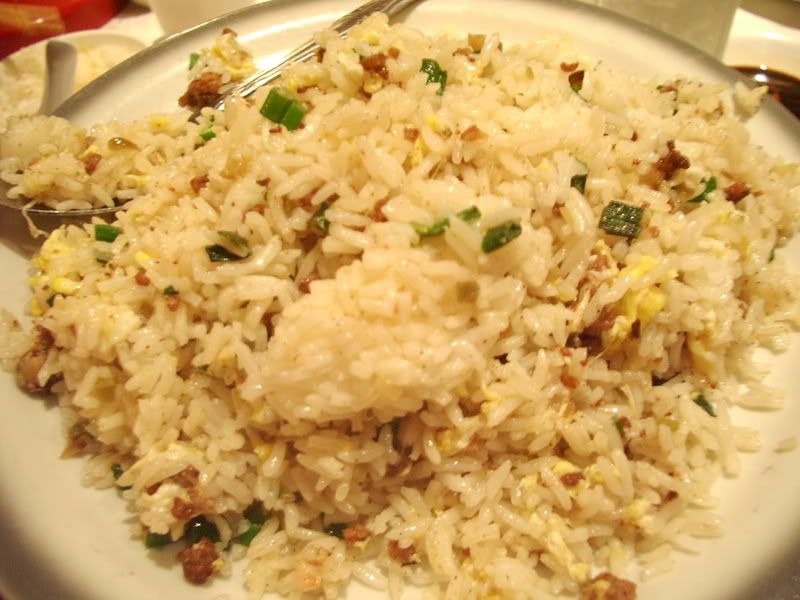 I didn't have any of the fried rice cause I felt a bit gluttonous and very full from eating nearly a third of the xiao long baos and an entire order of the dandan mein, but it looked good and was polished off with gusto by Mr.Panda Express himself :)


Mapo tofu, was well, mapo tofu. Chunks of soft tofu in a thick spicy gravy. It's perfect ladled over a bowl of hot rice. It was a little too oily for me and all the heat from the peppers just gave me this burning sensation without much flavor.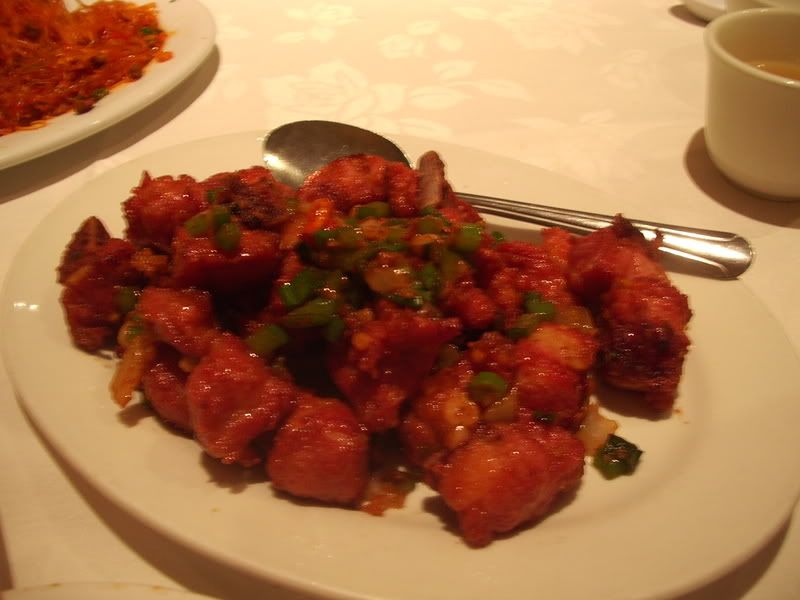 Oh man, you would have liked the fried spareribs, chunks of meat, battered and fried crispy. Each bit was at once juicy with savory and sweet notes and just popped in your mouth. Popped like a refined version of popcorn chicken.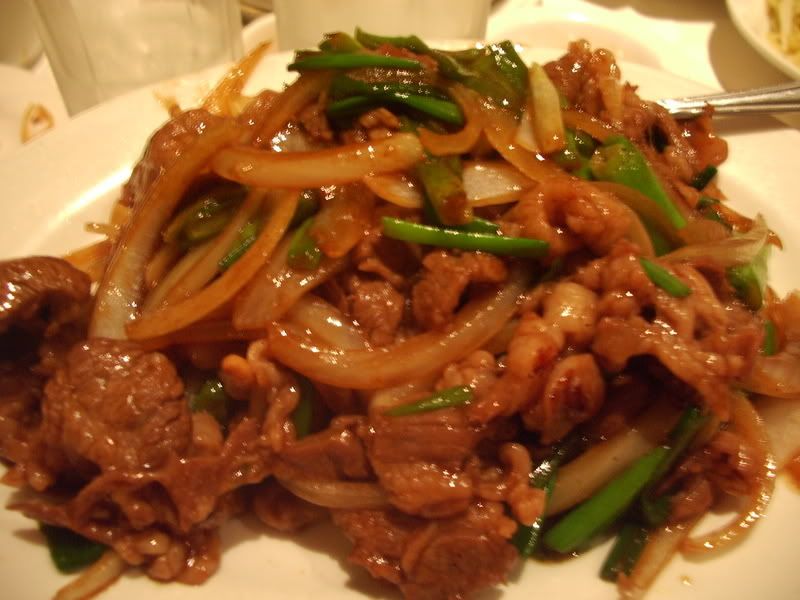 But the lamb sautéed with chives and onions was even better! The last time I had lamb was like…forever. Oh, how I missed it! Melt in your mouth tender and chewy with slices of sautéed onions…oooh, so simple. and quite good.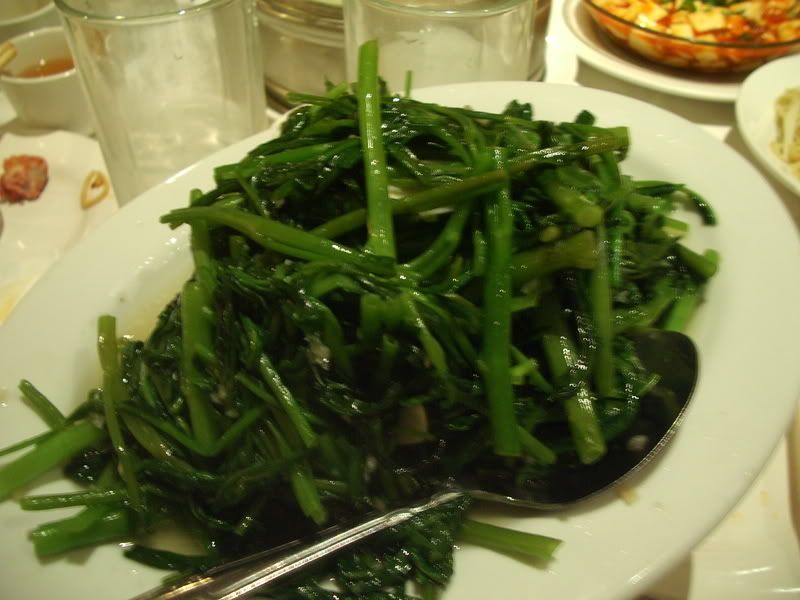 The sautéed ong choy was left mostly untouched. Not because it was bad (clean & healthy veggies!), but because it came at the end of the meal and we had eaten A LOT. 15 dishes. I must have been responsible for four of them. And I bet two were eaten out of bitter anger from not getting my com tam.
Dinner was followed by grocery shopping at Hong Kong Plaza afterwards – bought an entire durian (anyone want a piece? :)), soft cold tofu with honey and lots of frozen chicken and mushroom baos for snacking. And thennnn…dessert! We drove across the street to the most neato-est Chinese food court in the area and had a massive shave ice dessert. Look at what you get for only $3.00!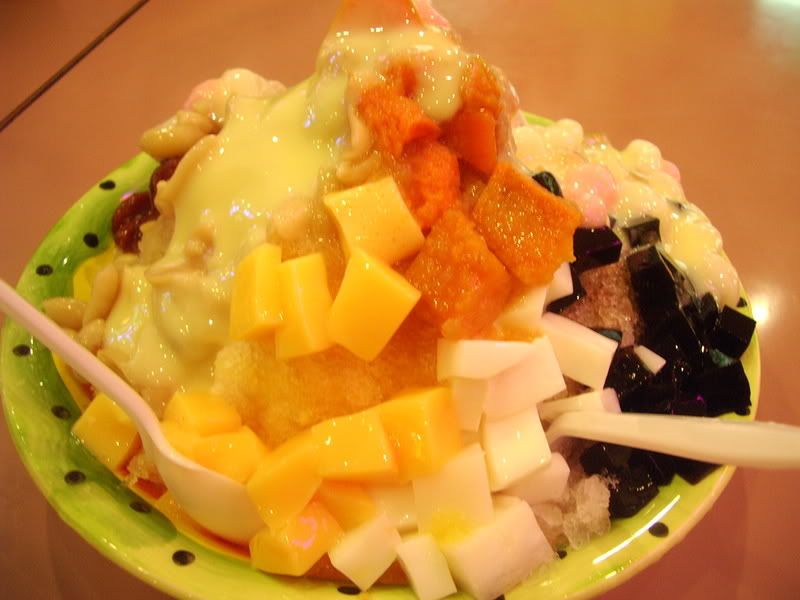 From another angle!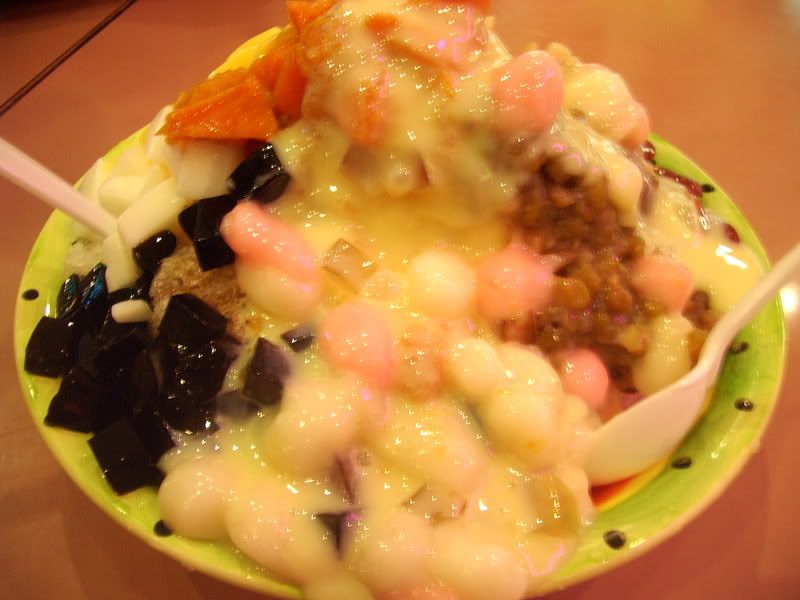 A mountain of ice piled with "8 sweet treasures." Today they had mango jello, grass jello, mochi, almond jelly, red beans, green beans, peanuts, and pumpkin! It changes every time I come here – I guess they just pile on whatever they have in the kitchen. On good days, you'll find soft chunks of taro on one side, but pumpkin was a pretty awesome substitute. The towering ice creation was deliciously showered in condensed milk, soaking right into the ice. Sweet and cold. Chewy and smooth. Yummy and yummy. A perfect ending to our spicy dinner. But I still want com tam.
Manie's Restaurant
18438 Colima Road #106
Rowland Heights, CA 91748
(626) 810-7818