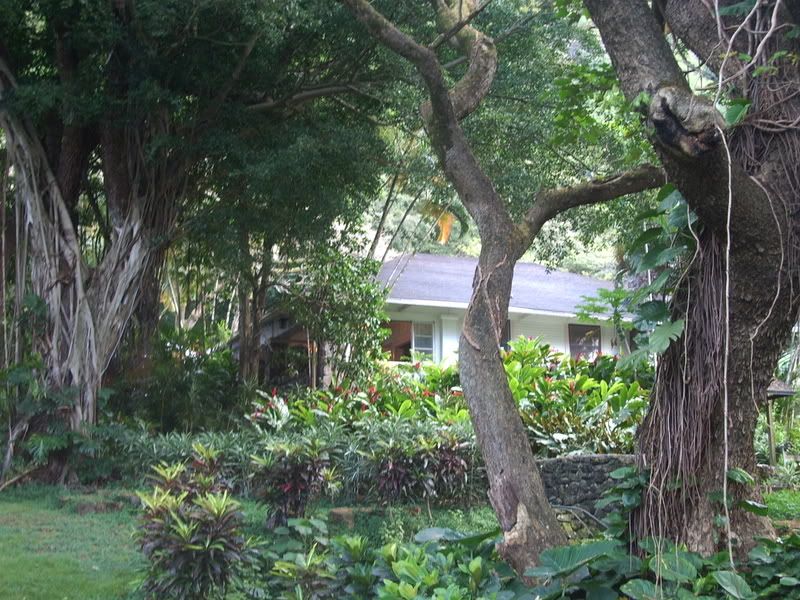 The Waioli Tea Room is the kind of place where you visit when you want to escape nothing at all. It's a paradise away from paradise (all for less than $20!) that evokes images of a cozy comfortable hideout. Buried far into the cool and rainy Manoa of Honolulu, the menu here is far from fancy and close to home.
I ventured here just right after 8am on an early carefree Saturday morning. No, it wasn't morning breakfast that I was after, but what's officially noted on their menu as afternoon tea. The drive here is about 15 minutes from my home, yet compared to the urban (by Hawaii's standards, anyway) Kaimuki and Kahala, the Manoa valley seems worlds away.
I love the concept of afternoon tea and I'll take it at any time of the day. I was the first guest of the morning and warmly greeted by a young women who led me to single corner table looking out onto the valley.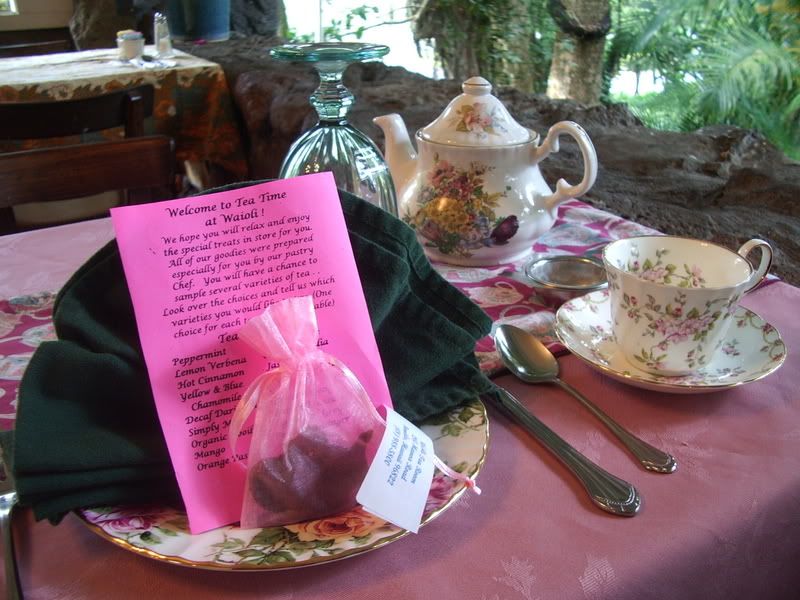 Look, they even set up the table just so! A fair pink sachet bearing a cinnamon ginger ornament was propped against the cloth fan, just waiting for me. It smelled so fantastic, it took quite some willpower to restrain myself from giving it a lick…just to seeee, you know?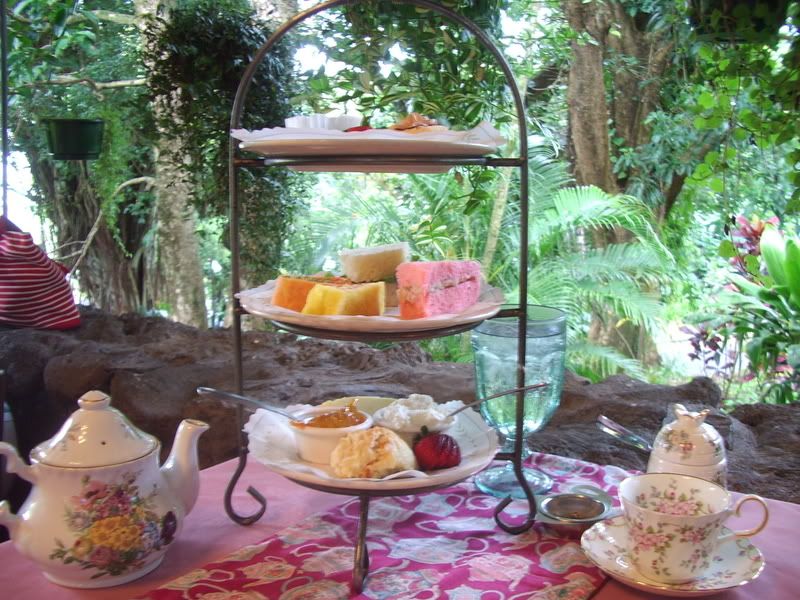 The items served with the tea set here is nowhere near the elegance of the Kahala Resort or the classic Halekulani. Instead, it's the kind of afternoon tea your grandma would make; chunky cut soft sandwiches, cookies, unevenly formed tarts, fresh fruits. Nothing is perfect, everything looks homemade. And that in fact is what it is. The quality is excellent for what they strive to achieve.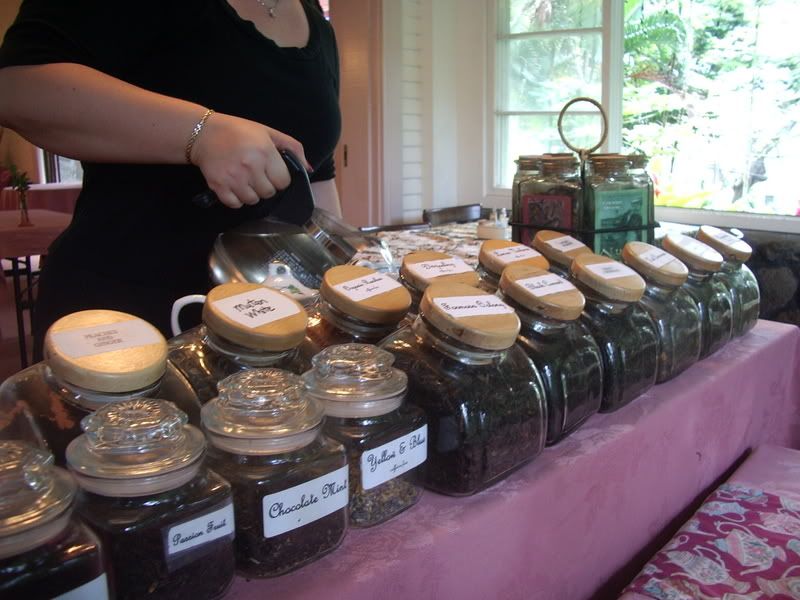 A cart bearing a wide selection of teas was rolled out and I was given a chance to sniff nearly all over them…whew, that took a while! But as usual, I stuck with my all time favorite of Darjeeling. I love this tea for it's mellow, slightly smoky flavor. Very crisp and clean, I often have it plain, but I couldn't help but stir in a spoonful of honey this morning.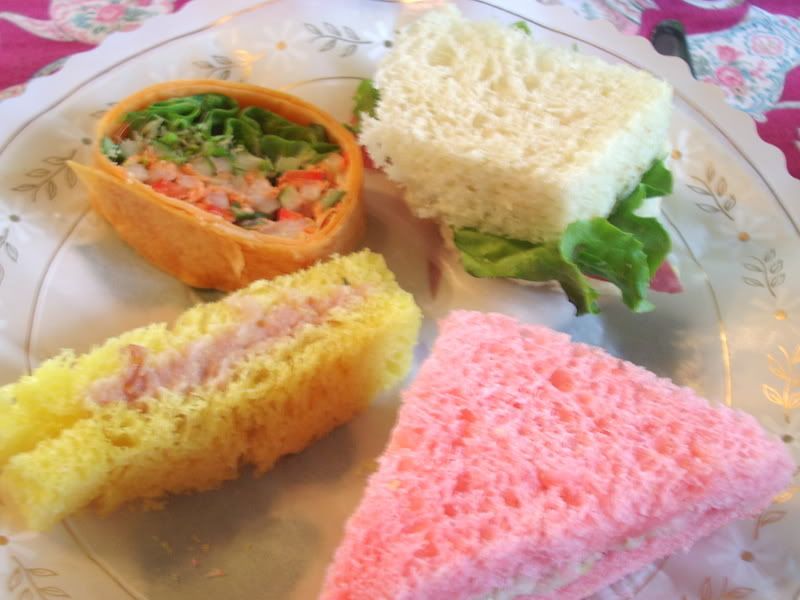 Starting with the savory selection is a round of tiny yet hearty tea sandwiches. I've yet to see a more colorful selection anywhere! My favorite was a creamy tuna cranberry salad on soft pastel pink guava bread. The guava bread was more for show than taste, but certainty a beautiful thing. Tart cranberries laced within the tuna salad gave a sharp sweet kick and the entire concoction was generously spread over the cut of dense bread. Bright yellow lilikoi bread was just as attractive, hugging a creamy blend of turkey salad. Playing along the rainbow was an orange roll of cucumbers, red bell peppers and a sliver of alfalfa. And to round things out, the classic white ham and mustard. I don't know where else on the island, or in the US for that matter, where you can get both lilikoi and guava bread with tea as if it were an everyday affair.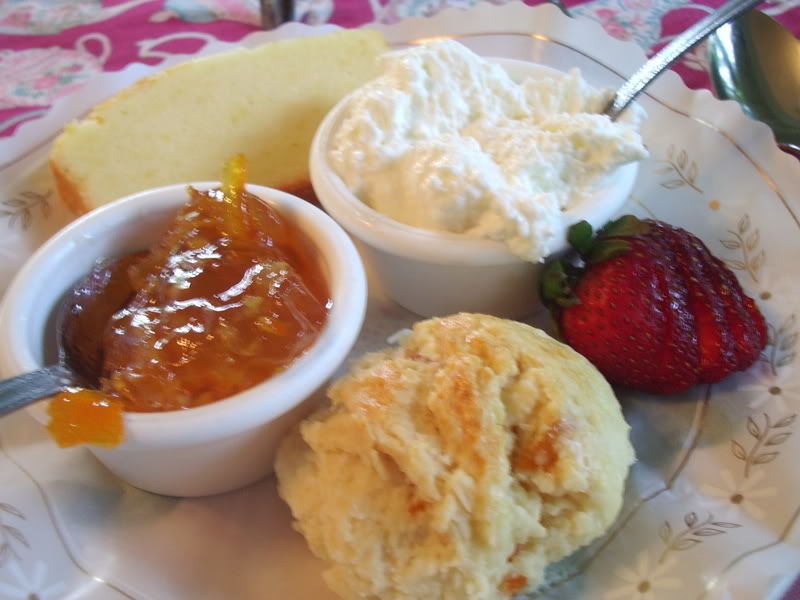 The scone, bumpy and not exactly beautiful proved that looks are no matter in the end. Dense and buttery, boasting the tang of orange and studded with silvers of rind and tart explosive bites of pineapple here and there. Sweetened whipped cream and a divine fresh orange marmalade so decadent the waitress had to bring me over another little ramekin, was perfect with and without the scone. A chilled, dense Sara Lee-esque pound cake came on the side, I doubt it was house made…but I do have a secret weakness for Sara Lee's pound cakes…hehehe.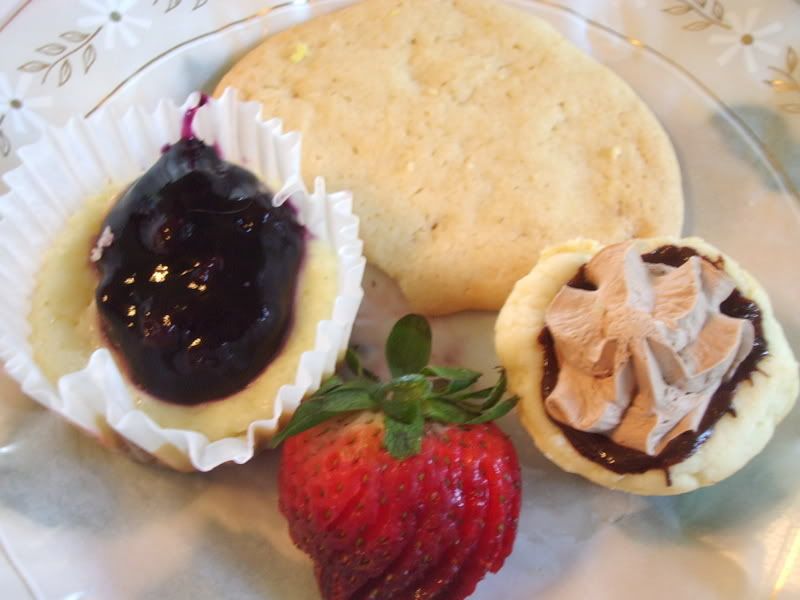 The trio of sweets were reminiscent of baking back home with mom as a middle schooler. Nothing is exceptional, all are far from "restaurant quality" but they're pretty darn good. The blueberry cheesecake bore a moist nutty almond and graham cracker crust was equal in height to a nearly gooey cheesy cake finished by a dollop of blueberry pie filling. I found hardly any nuts in the misshapen white chocolate mac nut cookie that was just ordinary, if not too sweet. A mini muffin sized shortbread crust tart held a pipe of chilled chocolate mousse. Very airy and light from all the cream, the chocolate didn't have a very significant presence.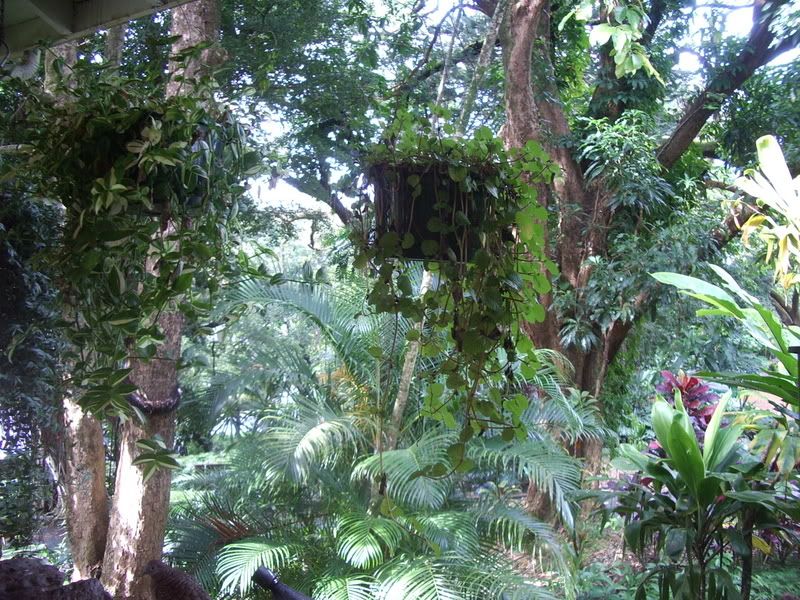 Nearly two hours had passed when I had finished off the entire tier from top to bottom. How satisfying. The restaurant had just started to fill up with both locals and tourists alike. I spotted a particularly fantastic looking guava french toast and an rich order of hot chocolate finished with a heavy hand of fluffy white cream. Was this dessert or breakfast? Lol. It was just nice to linger there on a cool summer morning – no obligations for the day, no where to go and no one to rush me.
Waioli Tea Room
2950 Manoa Road
Honolulu, HI 96822
(808) 988-5800